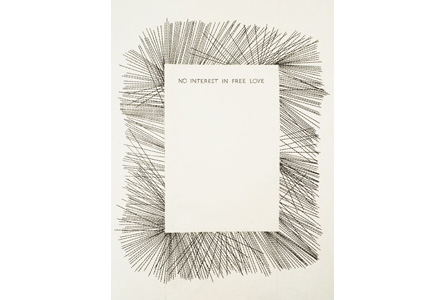 darling julie is maybe not so unlawful. her picks for this week were:
"there are a bunch of openings at 547 w. 27th street. that should be fun. i don't know if anything is good. and you should go see alyssa phoebus at bellwether!… but i just like it because the image on the press release says 'no interest in free love'"
while this darling remains unlawful and certainly interested in free love, of course i had to go to bellwether, since alyssa is the helpful associate of carin kuoni at the Vera List Center for Art and Politics; in that capacity, she was such a helpful darling for the staging of Lecture on Democracy as Word and Brand.
the pictures, drawings of words, were much much larger than they would have seemed from the reproductions, on large pieces of rag cotton paper that appeared to be hand-cast. (phoebus has got a residency at dieu donne which should be interesting!) the texture of the paper made the white spaces much more exciting! the works with single sentences possessed more gravity than the works with longer passages. (has phoebus tried just writing gibberish?)
it was a night of word paintings: leaving bellwether, i ran into the truly darling leola bermanzohn, whose mural "Otiyot" is currently on view at the Jewish Museum. the mural consists of the letters of the hebrew alphabet, thrown up in a grafitti style. supposedly, this work is a response to the "Dead Sea Scrolls" show up at the JM… though it seems much more to investigate resonances between hebrew and graf, especially the multiple meanings of "TAG" – "decorative notation" (in Hebrew), "day" (German/Yiddish), and an iconic signature (grafitti slang).
leola and i headed for 547 west 27th, where we ran into Kostelanetz, who was standing around waiting to retrieve a text-art work of his that was recently on view at AC [Chapel]. They also had two A/V works by Taiwanese artist Hong Kai Wang, including one that was mastered to 5.1 but then presented in this 6'x8′ nook where sound spatialization was impossible, even if you were in the "sweet spot" that two people were looking for when we arrived. Wang's 5.1 piece was in the same room as "Amor Infiniti" by Australian artist, Elizabeth Gower, a mad investigation of the unlimited possibilities for patterning paper plates! elizabeth was a true darling and i wonder if she'll let me steal one of her designs for wallpaper?
also on the 5th floor of 547, the best opening by far was at MONKEYDOGS URBAN ART

they had champagne AND sangria!!! (good sangria!) and, there were old hardcore heads there! (word is that the crucially chaotic don doc martins and get some strength through oi! at some righteous megathon coming down on may 22, 2009…) interesting work, but not more interesting than the guy roving by from time to time with a bowl full of cashews…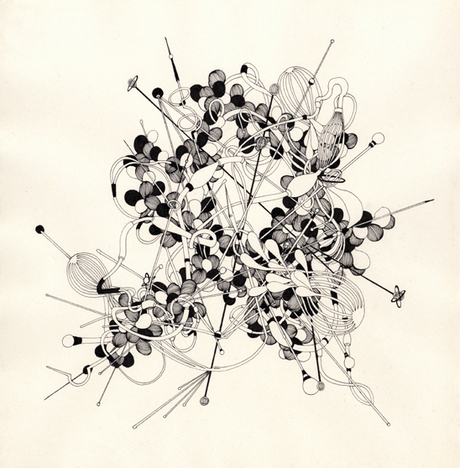 The one show where the work stood above the spectacle of thursday night free booze was Leah Raintree at Foley Gallery. like organs gone fractal, spilling, proliferating. i thought of yogis rumored to remove their innards to wash them in the ganga, and how their innards must ripple and flow in the water a bit before then wind them back up. (how they get them out? do they pull them from the front, or the rear? or the bellybutton?)